Services
Strategy & Planning
Technical Design
Infrastructure Setup
UX & UI Design
Development
Web Integrations
Technology
HTML5, CSS3
WordPress
Elasticsearch
Bynder
Project Features
User accounts for project planning
Project section
Resource library
Project spec configurator
Empowered users to generate project specs online quickly and easily
Simplified content management for the admin team through Bynder integration
Helped the client reimagine their product section to better suit user needs
Enabled visitors to save and compare their favourite Unilock products
RE-THINKING THE PRODUCT SECTION FROM END TO END
To suit the product-browsing habits of architects and other commercial users, we reimagined the entire product section from scratch rather than leveraging the same approach on other Unilock sites. This collaborative effort with the Unilock team produced a unique, step-by step flow that is designed specifically for the way architects think about and select products for a project.
Changing the product experience on the front-end also required that we create new integration specs and overcome a number of new challenges in pulling product data from the client's ERP system.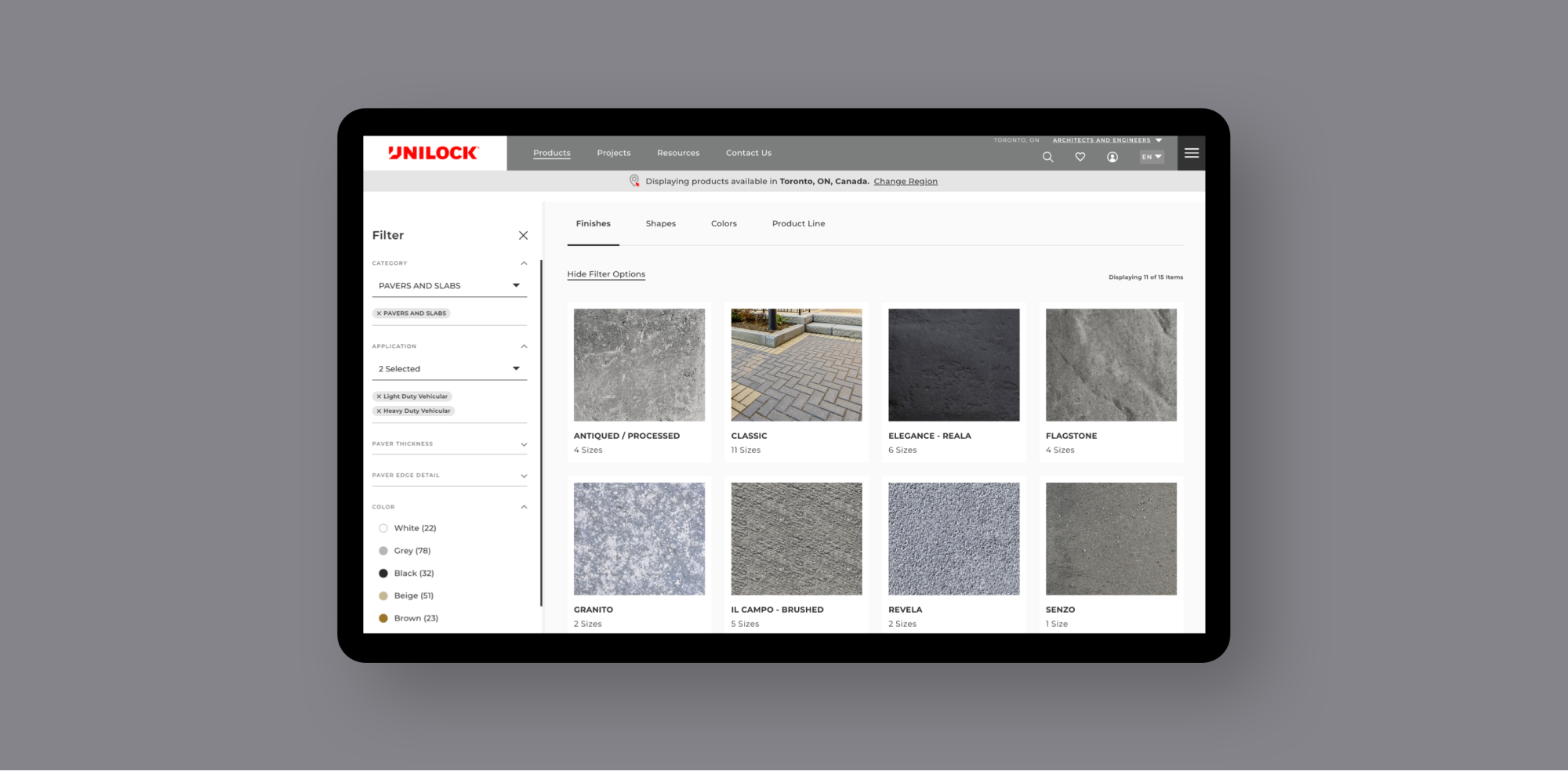 PROJECT PLANNING TOOLS
At its heart, the new commercial site is a business tool for architects—helping them plan and manage projects for free. This includes a login section for generating project specifications and submittals, the ability to save assets like products and technical documents, and a series of calculators to help them determine the right products for their needs.
We've also made it easy for users to request product samples and connect with their territory manager if they have any follow-up questions.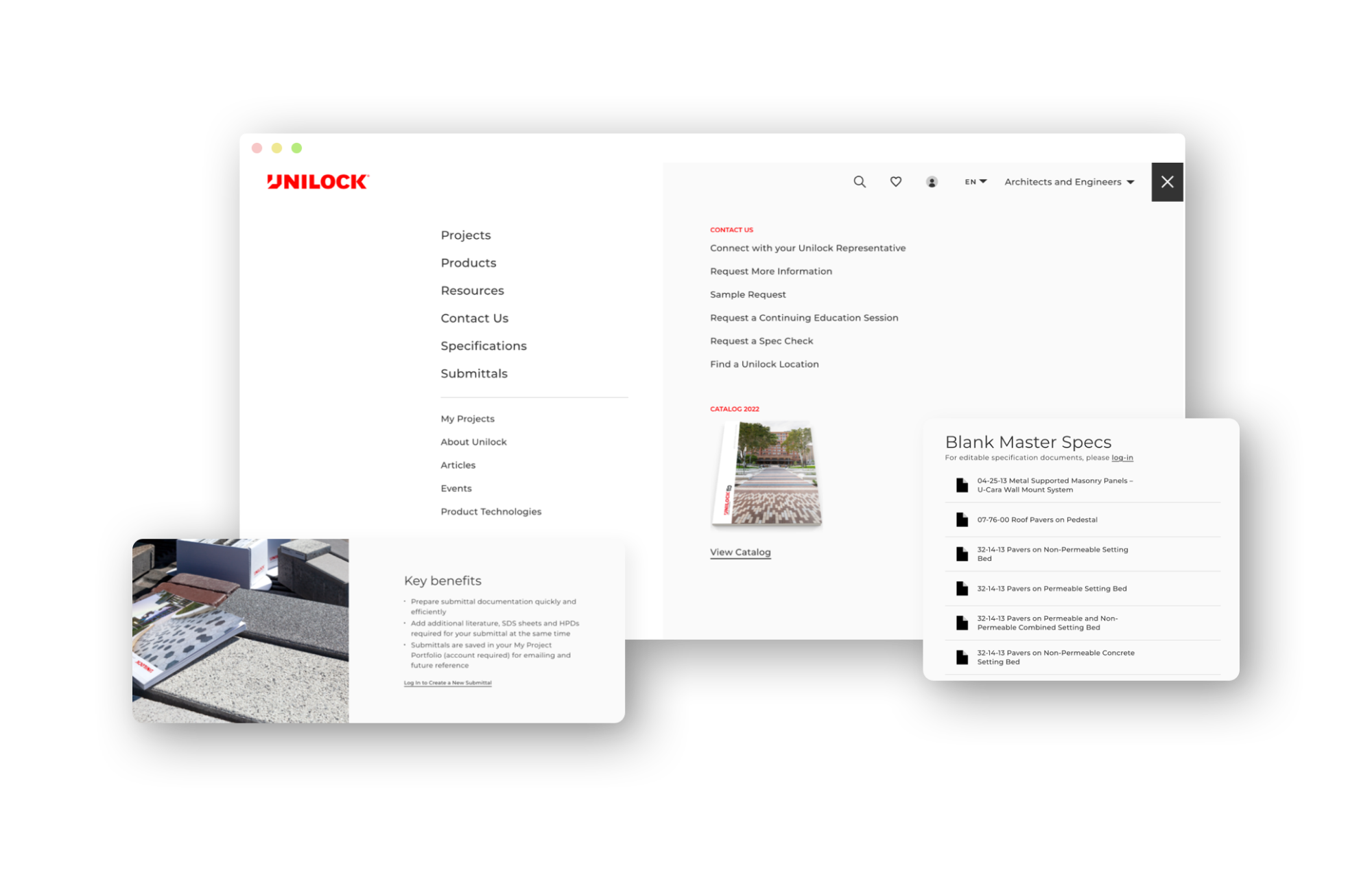 INSPIRATIONAL CONTENT
With more than 300 projects to view, visitors have no shortage of inspiration at their fingertips. Projects are easy to find based on location, type, products used, style and more. With the click of a button, users can also shuffle projects to get a fresh look and hopefully find the inspiration they're looking for.
Each project is full of professional, eye-catching photography, which users can save to their account for later reference. Manually-placed pinpoints help call out the products in use, making it easier to plan a new project.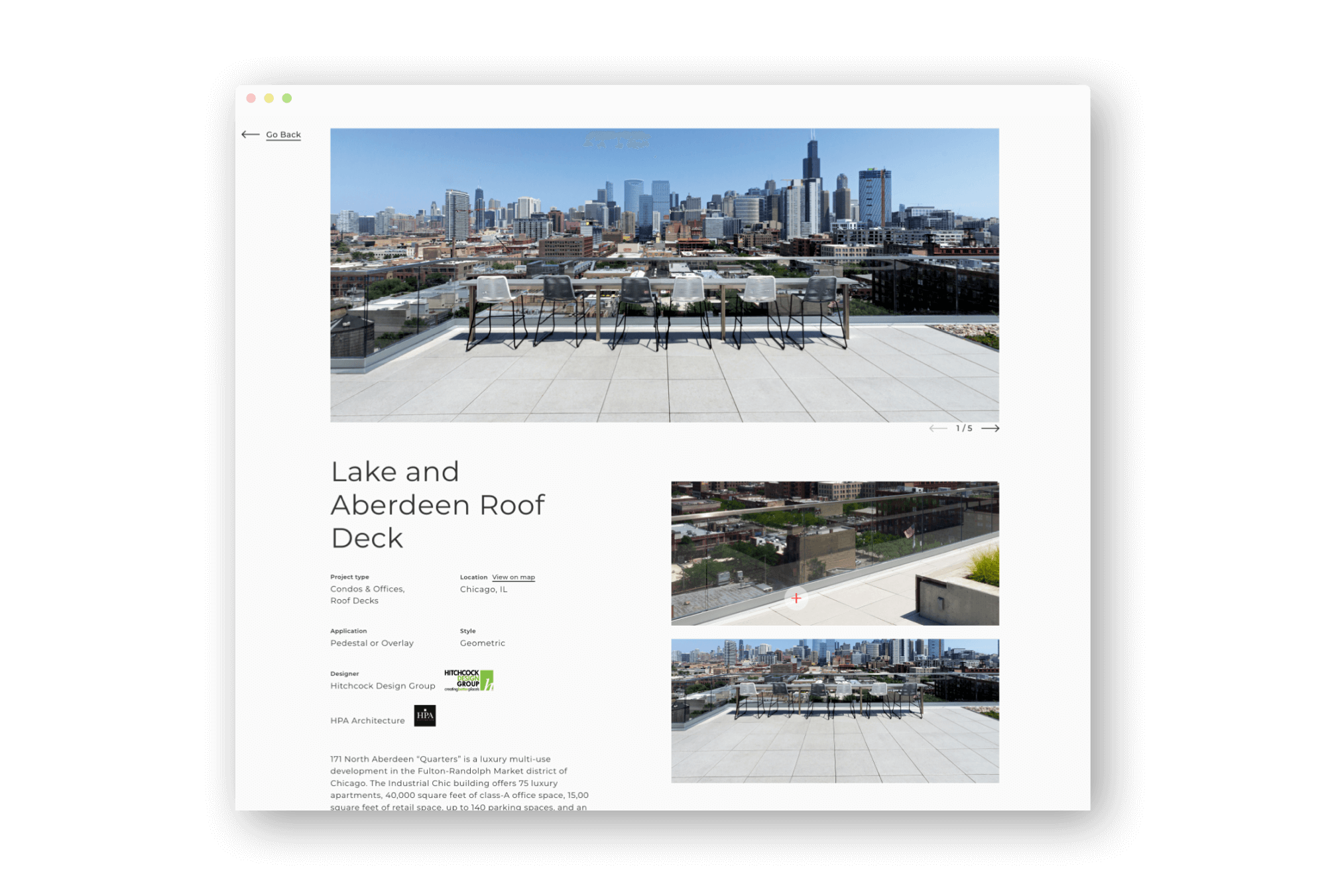 CALCULATORS
The Resource section is home to a series of calculators to help architects budget and plan their projects. Each calculator has its own logic and flow, covering important subjects like required paver base, rainwater capacity and the infiltration rate of permeable pavers.
Previously these calculations were available only in an Excel spreadsheet. Building them into the website not only provides value to users, it makes life easier for the Unilock team too.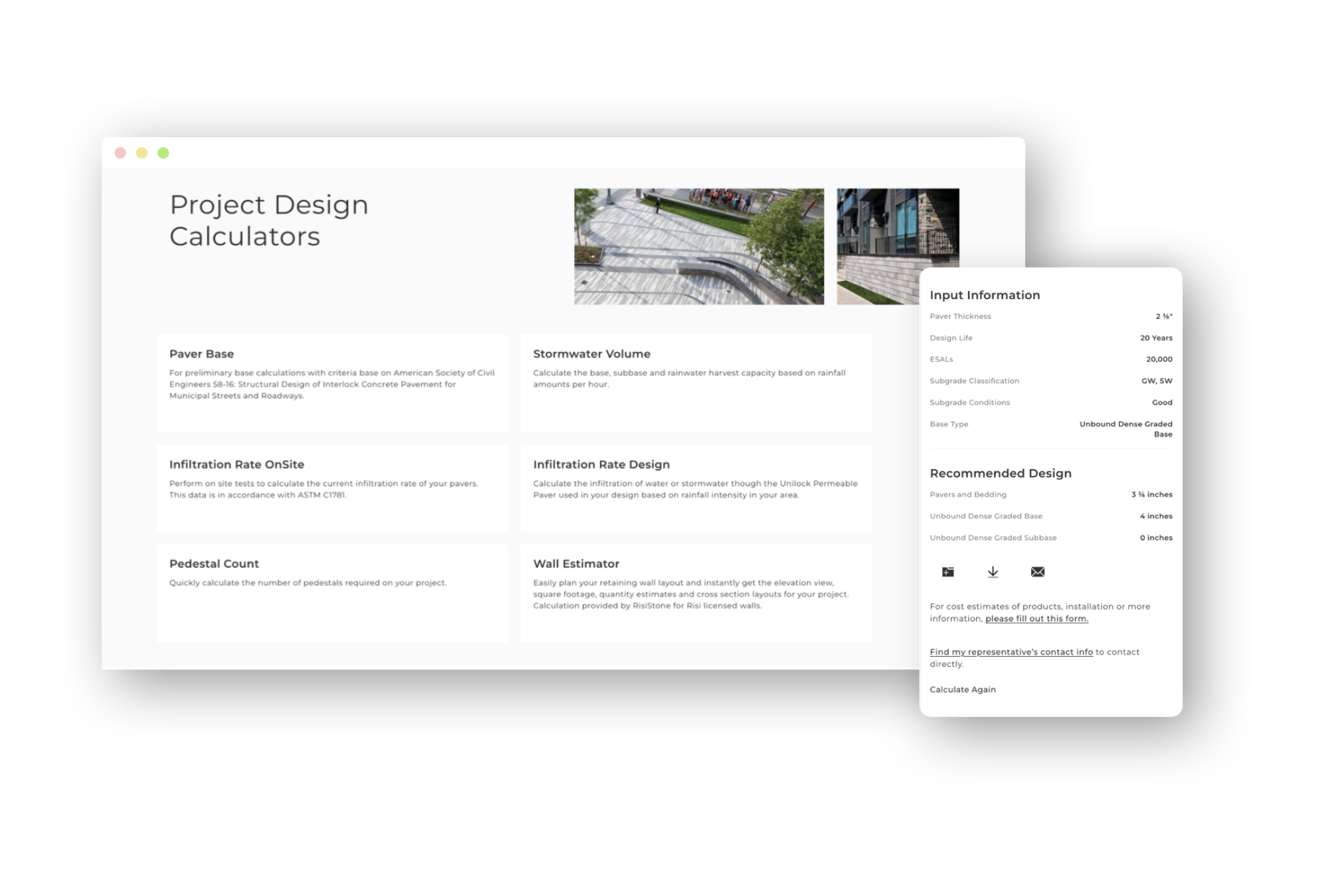 SUMMARY
The new Unilock Commercial site adds a long list of new tools and features for architects–all designed to make their jobs easier while increasing trust in the Unilock brand. This site is also a significant departure from the homeowner and contractor websites we completed for the client. It was more important to meet user needs than save time or money by leveraging a pre-existing solution that didn't quite fit.
Localized products and content by region
Bynder integration with customer WordPress CMS
Downloadable and shareable assets
Portfolio with 300+ projects
Built-in calculators and project-planning tools
Re-architected product section with ERP integration