Services
Strategy & Planning
Technical Design
Infrastructure Setup
UX & UI Design
Development
Technology
HTML5, CSS3
Laravel
WordPress
Google Cloud
Project Features
Multisite configuration
Multilingual content
Location finder
Custom & WordPress CMSs
Helped the client regionalize content and features to adapt to local markets
Supported the business with a strong online presence following a merger
Made it easy for customers to find and connect with their closest location
Reduced content insertion time for the client by connecting elements across sites
PRODUCTS AND SERVICES
Each of BrandSafway's products and services is given a chance to shine with a dedicated page that includes related videos, projects and literature. In the custom CMS, admin can build and modify pages by utilizing pre-styled blocks, input SEO metadata, assign to a category and enter translations.
PROJECTS
Grouped by area of expertise, the project profiles are designed to showcase BrandSafway's capabilities across multiple industries—from oil and gas, to infrastructure and commercial construction. Projects are fully content manageable and can be interlinked with product and service pages, industries and related projects.
INTERCONNECTED CONTENT MANAGEMENT
To help BrandSafway manage its website, we built a custom CMS with control of all pages and sections in eight languages. As more companies came on-board, we adapted the CMS to their needs and introduced central management of locations, projects, articles and more across four websites—resulting in a more efficient admin workflow.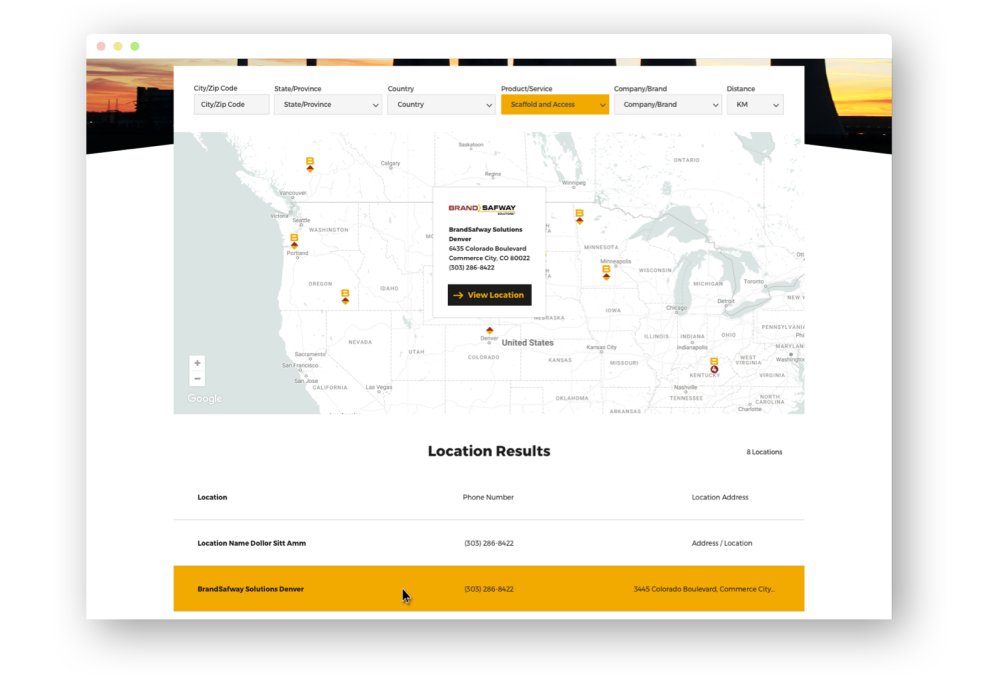 LOCATION FINDER
BrandSafway wanted a convenient way for customers to find their local branch. We developed a robust filtration process around the Google Maps API, which returns results linked to detail pages with contact details, address and products and services. Locations are centrally managed among BrandSafway and its subsidiaries, so changes only have to be made once.
SUMMARY
In keeping with BrandSafway's international reach, the new website is designed to connect with customers across borders and industries. Multilingual content offers more personalized user experiences. As a result, BrandSafway was able to consolidate several websites into one unified site with consistent branding and messaging. Following the launch, we also created separate websites for BrandSafway subsidiaries across the world.
Multilingual content available in eight languages
Custom CMS with robust content management capabilities
Location finder with Google Maps API and 250+ locations
WordPress blog with admin collaboration system across four sites