Services
Strategy & Planning
Technical Design
Infrastructure Setup
UX & UI Design
Development
Technology
HTML5, CSS3
WordPress
Microsoft Dynamics
Project features
Product section
Paver calculator
Dealer & contractor finders
Custom WordPress CMS
Helped the customer save hundreds of hours of product data entry
Enabled regional sales departments streamline and distribute leads
Equipped contractors with an efficient tool for product selection
Increased visitor retention and engagement per visit
DESIGN REFRESH
The previous site didn't do justice to Unilock's products and the work of contractors, so we addressed that with large, bold photography and plenty of whitespace to keep things breathable. On the content-rich product pages, we went through several refinements to reach that perfect balance of technical information and inspiring visuals. Everything is tied together with Unilock's distinct branding.
LOCALIZED PRODUCTS AND CONTENT
While Unilock developed their own internal system for managing product information, it was our job to build an import process so products would appear on the website with correct colours, finishes, sizes, packaging specs and laying patterns. These were governed by region, so product visibility would depend on the user's location. We also developed an automated import process to migrate product updates to the website nightly.
INSPIRATIONAL PROJECTS
The Dream section showcases 50 inspiring projects from homes across North America. We developed multiple templates to accommodate different layout needs, and added the ability to place custom pinpoints on each picture so admin can show which products were used.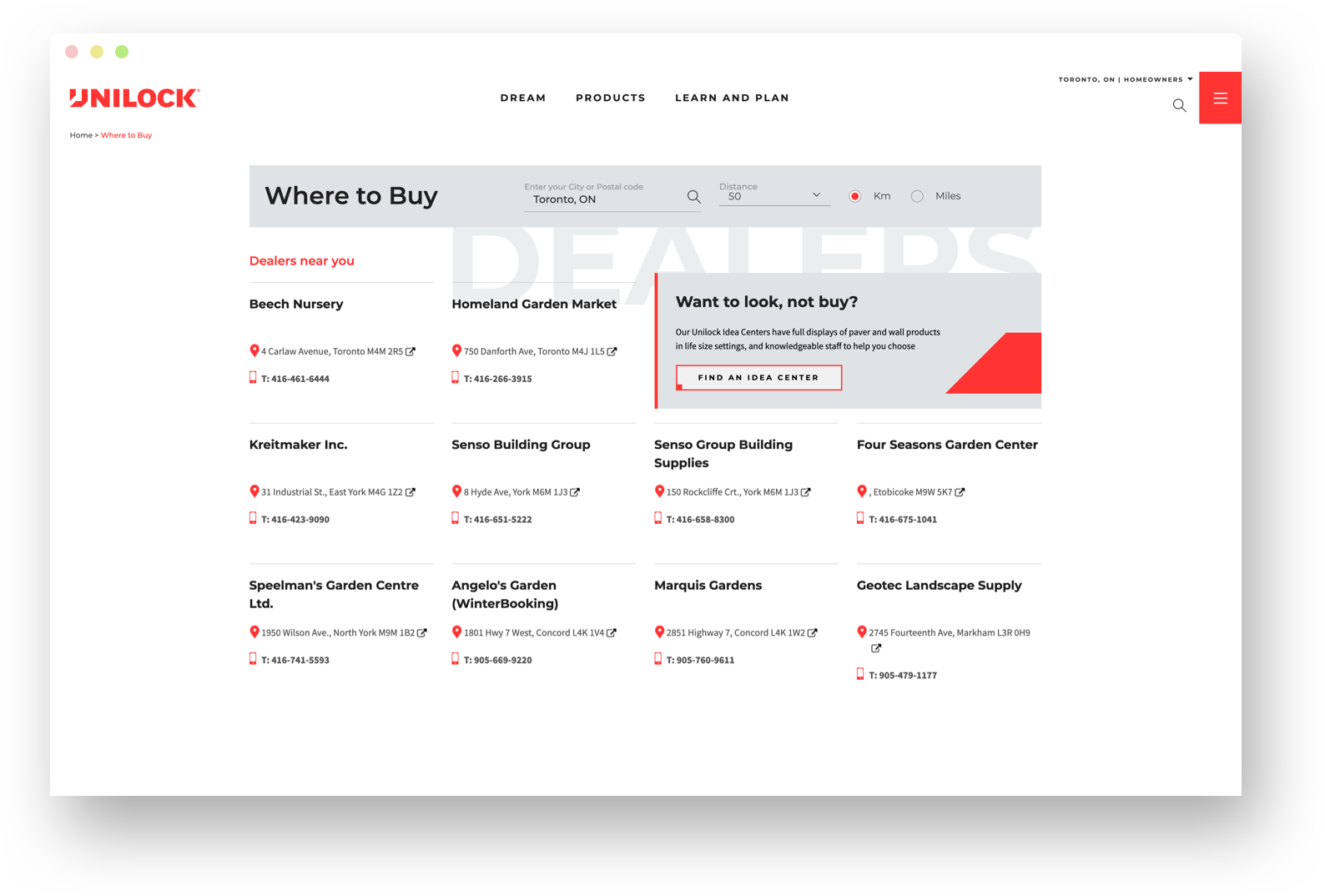 DEALER AND CONTRACTOR FINDERS
Unilock connects homeowners with dealers who sell their product and contractors who install it. In addition to UI design, we developed an import process to display local dealers based on user location and searches. Finding a contractor works by inputting some basic details about the project, which produces a handful of relevant matches in the area. We funneled these inquiries into Unilock's CRM as a web-to-lead integration.
SUMMARY
The new Unilock website is a fitting update for an industry leader. Regionalization and a complex product offering made for a challenging design and development process, but we worked closely with the Unilock team to pull it off in the end.
Product data architecture
Paver calculator modifications and integration
CRM web-to-lead integration
Dedicated developer for ongoing support
Custom WordPress CMS with extensive management capabilities
Library of helpful articles and migration of 1,600+ posts