Services
Strategy & Planning
Technical Design
UX & UI Design
Development
Web Integrations
Technology
HTML5, CSS3
PHP
Google Translate
Project Features
Product section & catalogue
Customer account signup
Corporate video
Careers section
Made it easier for customers to find products with improved search and filtration
Saved time and errors for the client by removing the need for manual product data entry
Helped tell the company's story more effectively with a corporate video
Supported lead-gen by funneling data to the client's CRM
PRODUCT FILTER
Although the site doesn't offer ecommerce, our task was to recreate elements of that experience so visitors could quickly find what they're looking for even among thousands of products. We worked closely with Fairview to identify key attributes such as application, temperature, size and pressure, then developed a user-friendly filter and search system.
PRODUCT PAGES
Product data architecture was also critical to re-developing the product import process and the content management system. This process involved multiple workshops with the client. The result was a new import architecture that encompasses all of the new filter parameters, as well as part numbers, descriptions, related products, images and product literature.
COMPANY VIDEO
Filmed on site and mixed with stock footage, music and on-screen graphics, this video highlights some of the people and product lines that have made Fairview a success. It offers a professional and welcoming introduction to Fairview, which is important for customers and suppliers looking for a new business partner.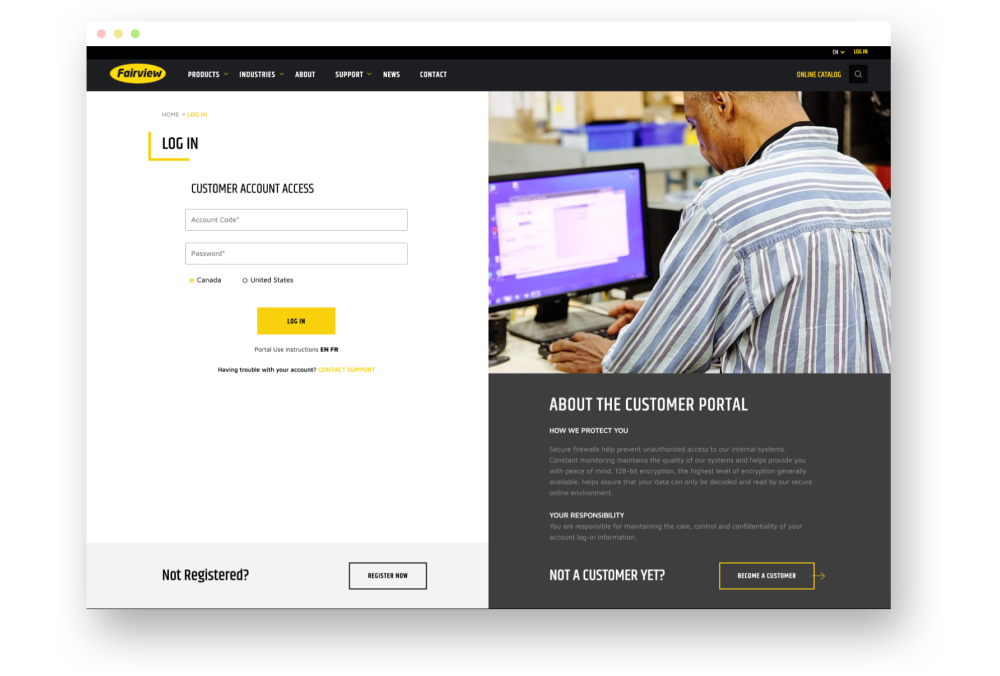 CUSTOMER PORTAL
Only registered customers can purchase products from Fairview. We carried over the customer application process from the previous site, but improved the user experience and made it easier to access. We also integrated the login fields so customers could access their secure account and submit product orders. New customer applications are funneled into Fairview's CRM.
SUMMARY
Fairview's new site brings a lot of user experience improvements, especially with the product section and on mobile devices.
Although products are the main focus, we didn't want it to feel like a typical industrial-products website. The design is bold and eye-catching while still looking professional, and it works in tandem with Fairview's updated branding.
CRM web-to-lead integration
Infrastructure setup and migration
Product data management
Customer account integration
Advanced product filtration and search capabilities
Custom CMS with product import process