Services
Strategy & Planning
Technical Design
Infrastructure Setup
UX & UI Design
Development
Project Features
Instructional guides for new users
Library of premade label sets
Customizable labels
Product inventory import
Made it easier for customers to find and print the right label for their retail needs
Enabled white-labeling to support customer branding efforts
Empowered users to customize the size, layout and content of their product labels
Reduced admin workload by standardizing label generation process
PREMADE LABEL SETS
As a large distributor of parts, Fairview works with customer businesses who sell its inventory in retail environments. The premade label sets give customers a quick and easy way to access labels, and customize details such as size, part photos and descriptions.
CUSTOM LABELS
For customers who want more control of their product labeling, the Fairview app also offers a custom option. First, they can download a sample file in English or French, then customize and upload the new version. When finished, customers can preview their labels and print them.
PRODUCT INVENTORY IMPORT
Fairview's large inventory is available for download through the application as an XLS file. Customers can modify the file to suit their retail needs, and import the file to preview their new labels. We developed the import process to match Fairview's product data architecture, which is also used on the Fairview website.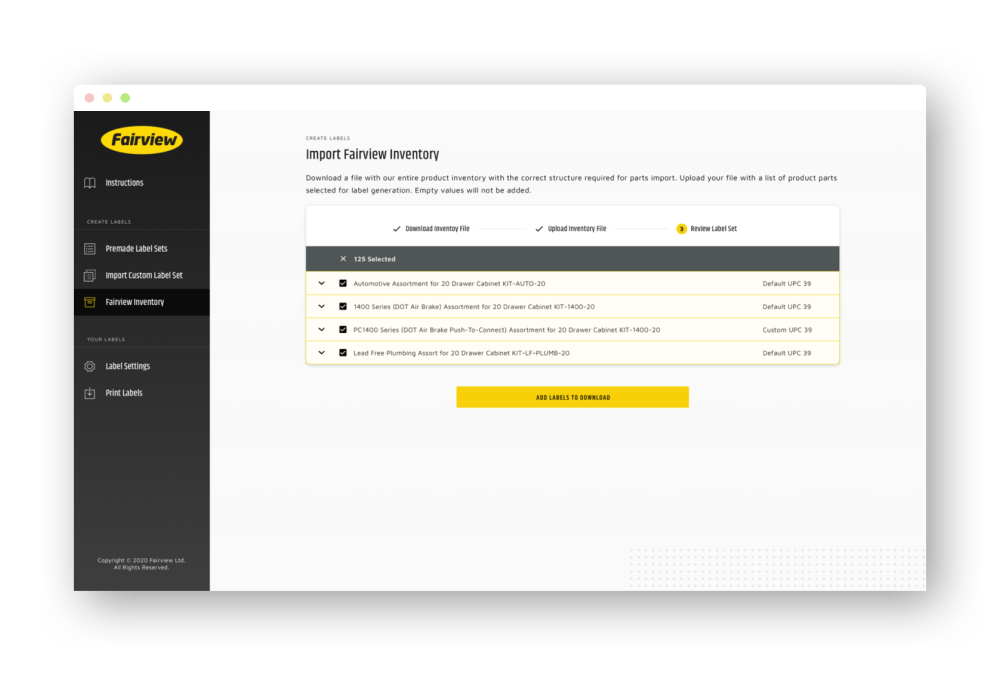 LABEL PRINTING
As labels are generated throughout a session, customers can easily preview and download their labels anytime. Editing the label quantity and removing a label is also a simple process, which we fine-tuned during UX design. It was important to deliver an efficient interface for all users, whether they're generating dozens or hundreds of labels.
SUMMARY
The idea behind the Fairview labeling app is simple, but it removed a pain point for Fairview and its customers that went unaddressed for years. Now, customers have even more reason to sell Fairview's products.
Custom labeling experience
Setup and configuration of file import process
Fully bilingual content (English and French)
Accessible on desktop, tablet and mobile