Services
Strategy & Planning
Technical Design
Infrastructure Setup
UX & UI Design
Front-end Development
Project Features
Calculator by gas type
Reference tables
Installation guides
FAQs
Helped users find the right product & install it safely based on their unique scenario
Supported on-site use with design for low-light conditions
Reduced client costs with cross-platform development for iOS & Android
Saved time for the client by deploying to App Store & Google Play
CALCULATOR FOR PRODUCT RECOMMENDATIONS
The app's core function is to calculate the most appropriate tube size for the job. By plugging in a few details—such as gas type, required BTU and run length—installers receive an instant recommendation. The entire app interface is designed for easy reading under a wide variety of lighting conditions.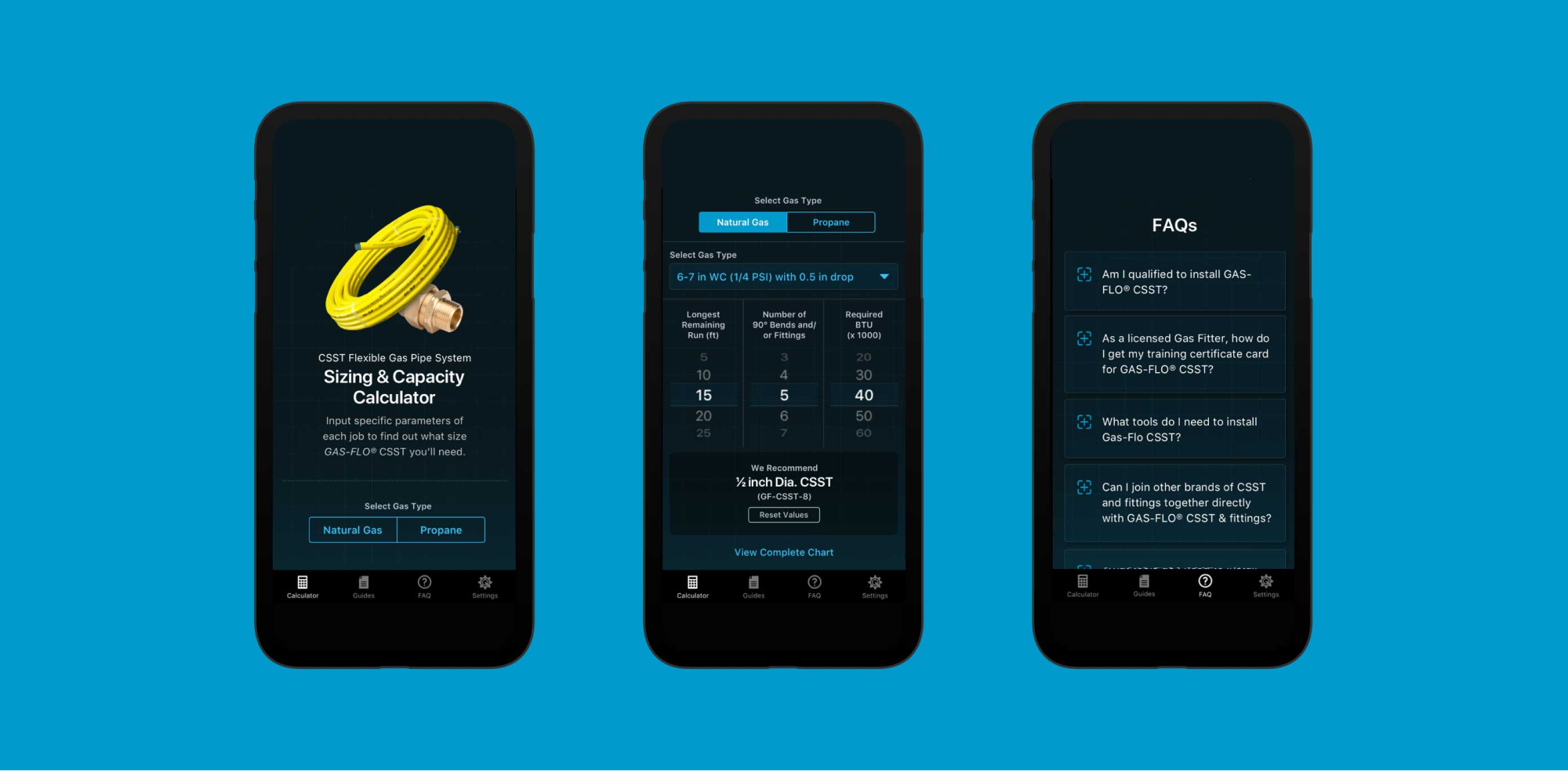 REFERENCE TABLES
Even with the calculator, installers might want to reference the full tables. We redesigned the tables to display clearly on mobile devices and reduce confusion. Our highest priority was making the app usable while on the job site, so we analyzed multiple source tables before arriving at a new, simplified layout.
INSTALLATION SUPPORT
We added a support section for easy access to helpful materials such as product installation and assembly guides, as well as FAQs. Since working with gas lines can be dangerous, we wanted to ensure installers had all the information they need at their fingertips. All content is also available in English and French.
SUMMARY
By automating a major step in the installation process, the app dramatically reduces the chances for human error. As a result, work can be performed with greater efficiency and safety. The app is now available for free download in the App Store and on Google Play.
Cross-platform development for stable performance on iOS and Android devices
Fully bilingual content (English and French)
Support section with FAQs and downloadable guides
Integration with Fairview's website