Services
Strategy & Planning
Technical Design
Infrastructure Setup
UX & UI Design
Development
Project Features
Dress-shirt customizer
Measurement profiles
Appointment booking
Back-end system
Saved time for the client by speeding up order processing & data entry
Equipped outbound sales team with dedicated mobile experience
Simplified UX while maintaining full customization workflow
Connected the app to a custom back-end for seamless flow of order data
STREAMLINED DESIGN INTERFACE
We redesigned the app's order interface for a faster, more efficient process. The collapsible menu removes distractions by keeping only the most relevant details on the screen at one time. But all the workflows are still there. At checkout, the sales rep can log in and complete a secure ecommerce transaction.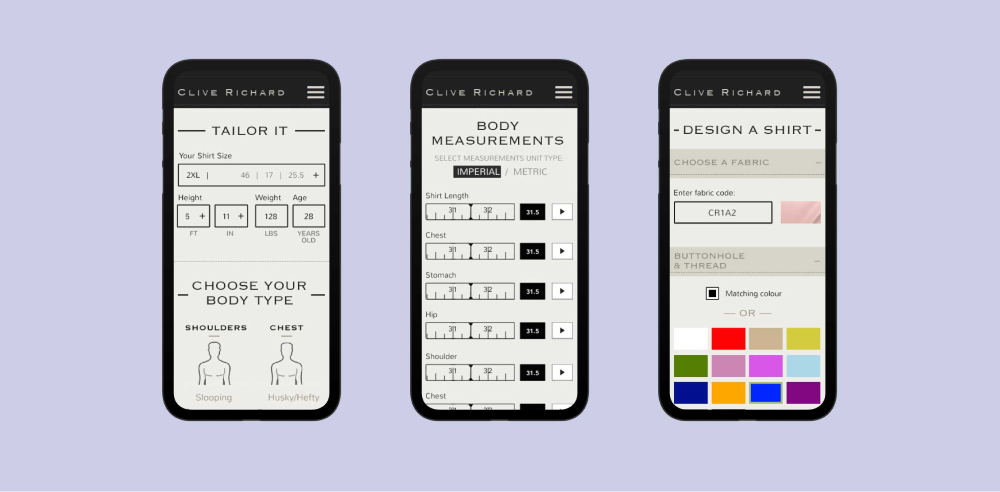 CUSTOMER MEASUREMENT PROFILE
With so much riding on fit, we couldn't cut any corners while adapting the measurement process to mobile. Instead, we redesigned the UI and UX to help Clive Richard's salespeople move effortlessly through each step—from selecting body type and posture, to inputting measurements.
BACK-END SYSTEM
The custom back-end features a number of critical business tools to help Clive Richard manage orders, schedule appointments, generate promo codes and add new products. Customer data entered into the app is encrypted and transferred to the CMS. Each order also generates a PDF with customer measurements, fabric code, monogram, style choices, shipping method, order number and more.
SUMMARY
Clive Richard changes the way men shop for dress shirts. The mobile app takes it a step further by allowing Clive Richard to bring the customization process to its clients. Fulfilling orders on the go is fast and easy, without sacrificing accuracy or choice. All of the core features of the application were adapted specifically to tablets and smartphones for a seamless experience.
A faster, more efficient order process for the sales team
Seamless communication between the app and full system back-end.
A dedicated mobile experience with all the workflows of the complete application.