Services
Brand Identity Design
Strategy & Planning
Technical Design
Infrastructure Setup
UX & UI Design
Development
Technology
HTML5, CSS3
PHP / Laravel
Mailchimp
Project Features
Dress-shirt design tool
Measurement profiles
Library of 3D fabrics
Custom admin back-end
Empowered customers to customize every aspect of a dress shirt
Supported the client with a back-end to manage orders, production & more
Helped customers visualize their shirt with hundreds of photorealistic 3D renderings
Equipped marketing with a content-rich website & CMS
DRESS SHIRT CUSTOMIZER
This advanced system is the result of meticulous planning, testing and UX/UI design. Users can move step-by-step through the interface—choosing their style of collar, cuffs, pockets, buttons and more—or skip ahead to the details that matter to them. Style updates and pricing are reflected in real-time, eliminating guesswork. Users can even add a custom monogram.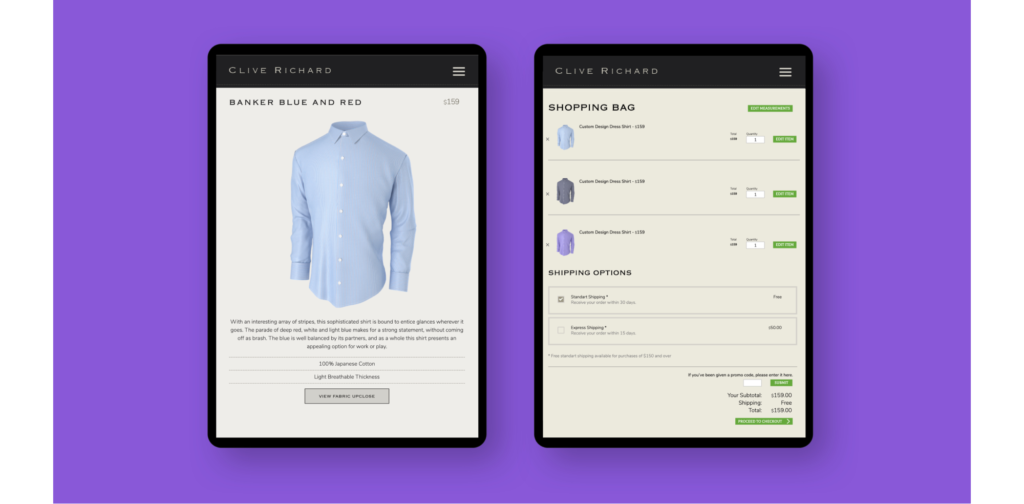 PHOTOREALISTIC 3D FABRICS
To improve the online shopping experience, we rendered more than 100 fabrics into photorealistic 3D. Each fabric is composed of multiple parts, so users can see the results of each style choice in real-time. For easier selection we grouped fabrics by style. On the back-end, admin can easily add new fabrics and assign details such as price, thread count and thickness.
CUSTOMER MEASUREMENT PROFILES
Fit can make or break a shirt, so the measurement process had to be seamless and accurate. To start, users are prompted to input a few basic details such as body type, height and fit preference. This generates a series of default measurements. Users can customize these measurements—guided by accompanying videos—and save their measurement profile, which can be edited later.
BACK-END SYSTEM
The custom back-end features a number of critical business tools to help Clive Richard manage orders, schedule appointments, generate promo codes and add new products. Customer data entered into the app is encrypted and transferred to the CMS. Each order also generates a PDF with customer measurements, fabric code, monogram, style choices, shipping method, order number and more.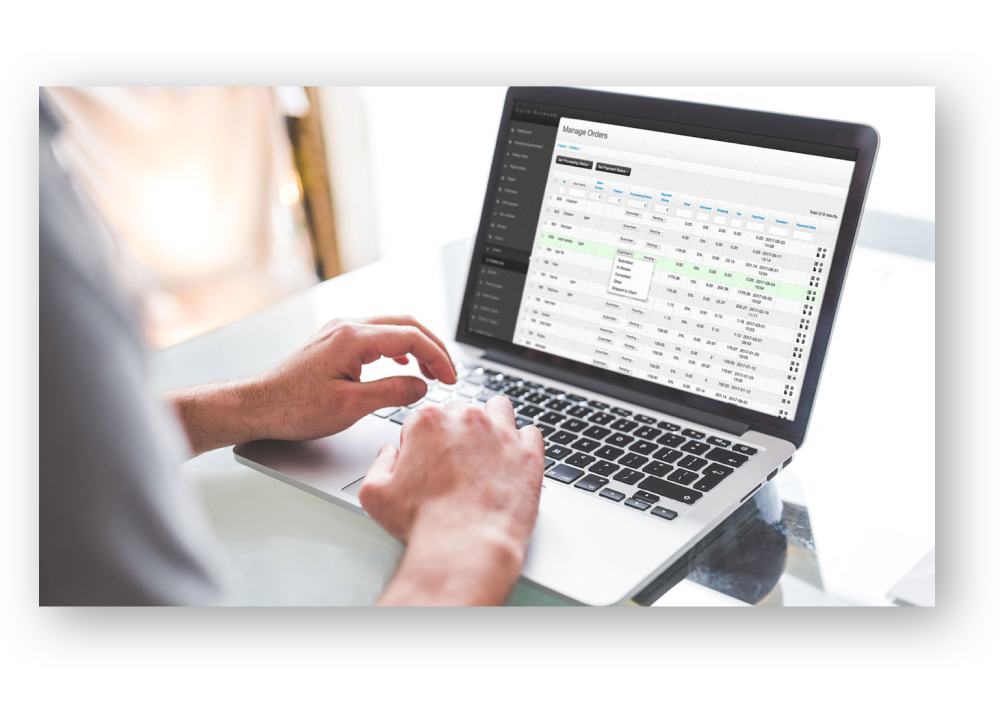 SUMMARY
Clive Richard brings style and comfort to men who've grown disillusioned with traditional ways of shopping for dress shirts. The highly flexible customization process is ideal for guys who want to adjust a few details or every detail. On the business side, a robust suite of tools and integrations makes workflows more efficient while empowering the Clive Richard team to make decisions based on data.
Custom CMS with advanced order management functionality
Companion mobile app for sales team
Ecommerce with payment gateway integration
Photorealistic 3D rendering of 100+ fabrics
Responsive UI supporting all resolutions from smartphone to desktop
Customer measurement profiles for fast re-ordering