Services
Strategy & Planning
Technical Design
Infrastructure Setup
UX & UI Design
Development
Technology
HTML5, CSS3
Laravel
SharePoint
Project Features
Job posting templates
Applicant reviews
Admin & store owner portals
Companion website
Helped the client standardize its hiring process across 350+ locations
Equipped HR with full oversight & control of chain-wide hiring
Saved time for store owners by simplifying the process of posting a job opening
Supported IT by enabling single-sign-on with client's corporate SharePoint portal
ADMIN EXPERIENCE
Our primary goal with this project was to make life easier for Boston Pizza's HR department. For admin, the portal takes away the most mundane tasks and lets them manage things on a higher level. This includes adding or removing store owners, and creating new job templates to standardize postings across the entire BP network.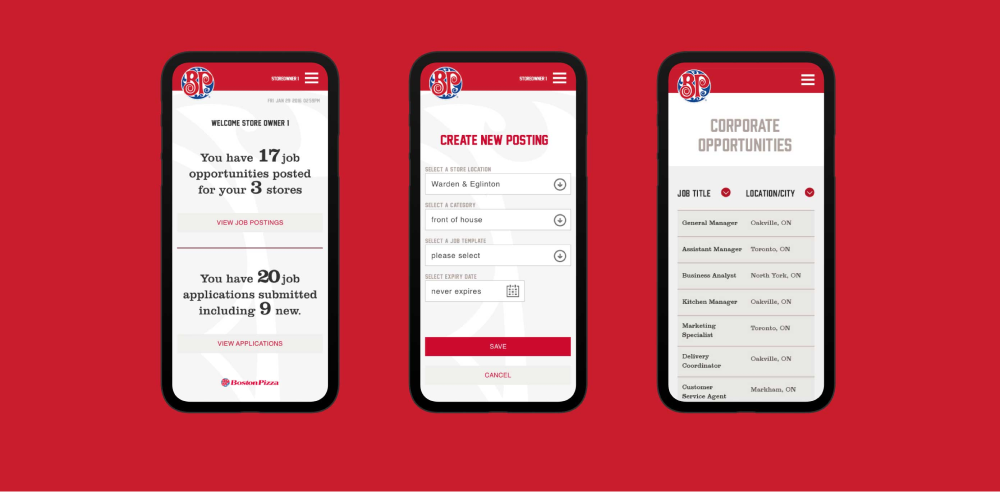 To post a job, the store owner selects a template and inputs a few basic details.
STORE OWNER EXPERIENCE
For store owners, the portal offers a series of templates (created by admin), which they can use to quickly advertise a new job opening. They can also assign statuses to applicants for easier vetting and download resumes. Since some users may own multiple stores, we modified the user experience to allow for easy switching between stores.
PROCESSING APPLICATIONS
Applications submitted by candidates through the website generate an email notification for the store owner, who can log in to the portal to take the next steps. This includes reviewing the application, downloading the resume and updating the status based on their impression of the candidate. Store owners can also archive and export applications.
THE WEBSITE
Our experience working with Boston Pizza on a previous project inspired the direction here. We know it's a casual brand that doesn't take itself too seriously, and we wanted to reflect that in the look and feel of the careers website. Highlights of the site include video production with employee interviews, a branded Google Maps interface with opportunities filtered by category and location, job applications and a fully bilingual front-end.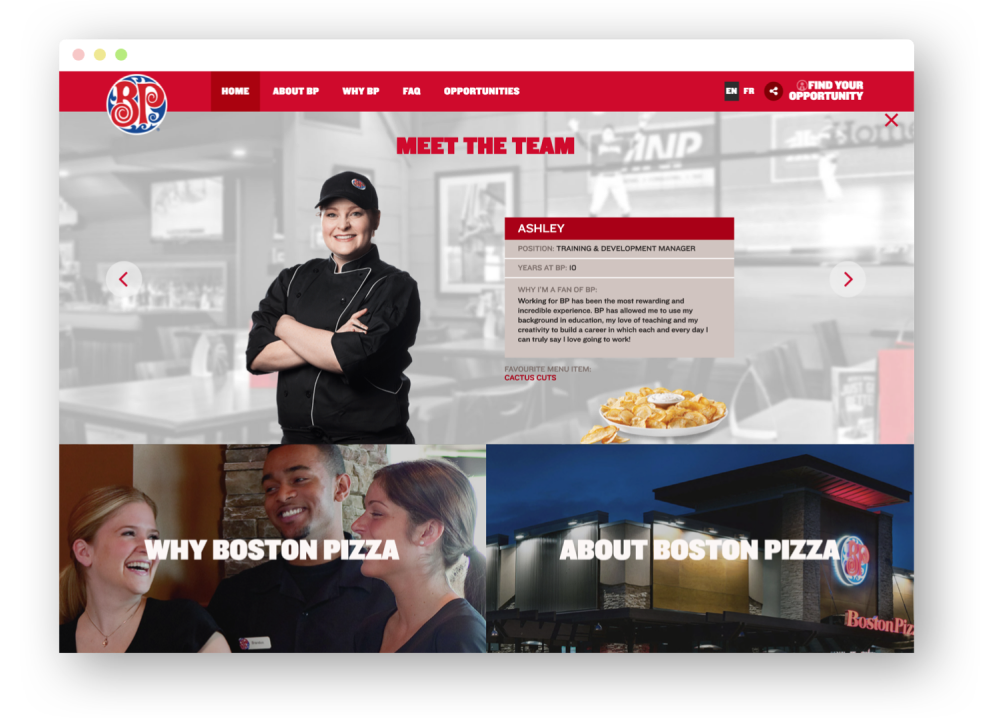 SUMMARY
By implementing intelligent workflows that save time and reduce potential for human error, we were able to streamline the hiring process for Boston Pizza. What used to be a cumbersome process now takes just a few clicks. The system is web-based, so staff can log on from anywhere, and they don't need another set of credentials to do it thanks to single-sign-on (SSO) integration.
Simplified admin experience with multi-tiered permissions
Feature-rich job applications library
SSO from corporate SharePoint portal
Responsive UI supporting all resolutions from smartphone to desktop
Custom bilingual CMS-driven website
Video production to tell employee stories
User and store data synchronization via ETL