Services
Strategy & Planning
Technical Design
Infrastructure Setup
UX & UI Design
Development
Technology
HTML5, CSS3
Laravel
WordPress
Project Features
Admin & tenant portals
Interactive store map
Events & promotions
Companion website
Enhanced collaboration between store owners & property management
Saved time for admin & store owners by streamlining change-approvals process
Empowered store owners with increased control over content, promos & more
Reduced the client's costs by adapting the solution for multiple properties
ADMIN WORKFLOWS
Two separate portals—one for admin and one for tenants—were designed to streamline the workflows of each user type. On the admin side, users can create stores, promotions, events and jobs, and invite tenants to manage their own stores. Changes submitted by tenants are pushed to admin for review, who can publish the updates with one click, or send back to the tenant for revision.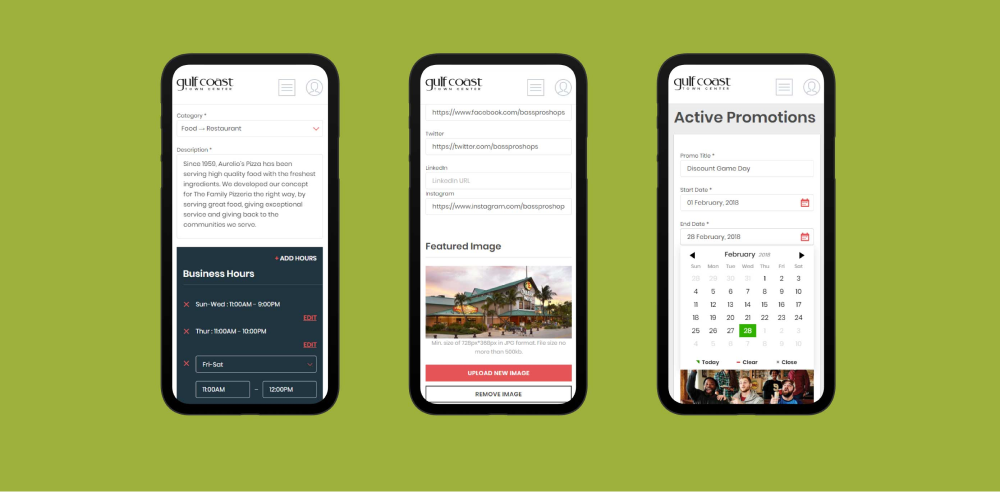 TENANT WORKFLOWS
Previously, tenant change requests sat in limbo for days before admin review, and there was no single method of communication. Now, a dedicated tenant portal gives them more control and improves collaboration. Tenants can edit their store profile, add promotions and add jobs. Admin automatically receive an email notifying them of updates awaiting their review.
PROMOTIONS
Our biggest challenge with promotions was designing a solution that would accommodate a wide variety of image styles, shapes and sizes, since each store owner could upload their own content in the tenant portal. Promo content includes a description, featured image and active date. Approved promotions are also linked to the store on the website's front-end and automatically disappear when they expire.
THE WEBSITE
Featuring a custom front-end, the website provides a modern and welcoming face to the property. Highlights include unique profiles for each of the 100+ stores and restaurants, an interactive floor map for easy wayfinding, dedicated sections for promotions and events, and more. The interconnected tenant and admin portals—as well as a custom WordPress CMS—provide a flexible and collaborative approach to website management.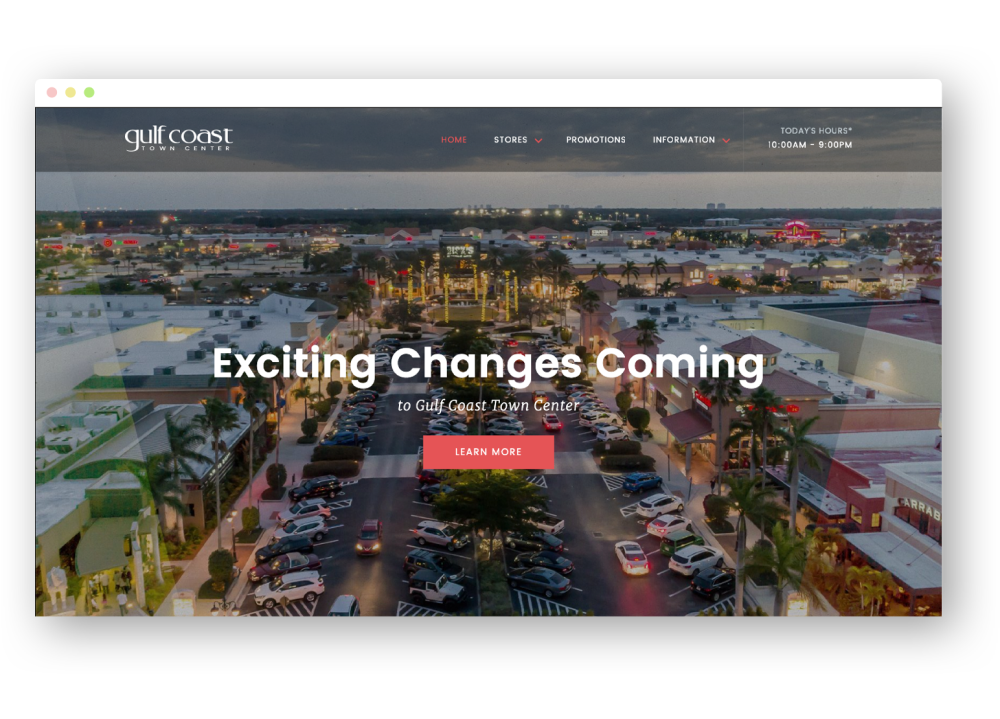 SUMMARY
The portals address a major pain point for tenants and property admin. We designed a series of workflows—supported by automated status updates and email notifications—to streamline collaboration. Tenants get more autonomy, while admin get a more convenient approval process without giving up control. Since launch, we have continued to expand the portal and website with new functionality as the property's needs change.
Dedicated portal for property managers and tenants
Individual store management capabilities with unique login credentials
Custom CMS-driven website
Responsive UI supporting all resolutions from smartphone to desktop
Mailchimp and social media integration for marketing
Interactive property map connected to store profiles
Flexible solution shipped to multiple properties with re-branding