Services
Strategy & Planning
Technical Design
UX & UI Design
Front-end Development
Web Integrations
Technology
Angular.js
RESTful API
ServiceNow
Project Features
Billing centre
Support ticket system
Service ordering & configuration
User management
Helped improve the customer experience by consolidating multiple portals
Equipped admin & customers with a user-friendly support ticketing system
Reduced admin workload by allowing customers to manage & add account users
Supported the client with a detailed delivery plan for the project from end-to-end
PHONE NUMBER ORDERING AND MANAGEMENT
Allstream provides business customers with pilot numbers and telephone numbers to assist with communication. In the portal, we made it easier for customers to order new numbers, migrate numbers from other platforms and manage their existing inventory of numbers.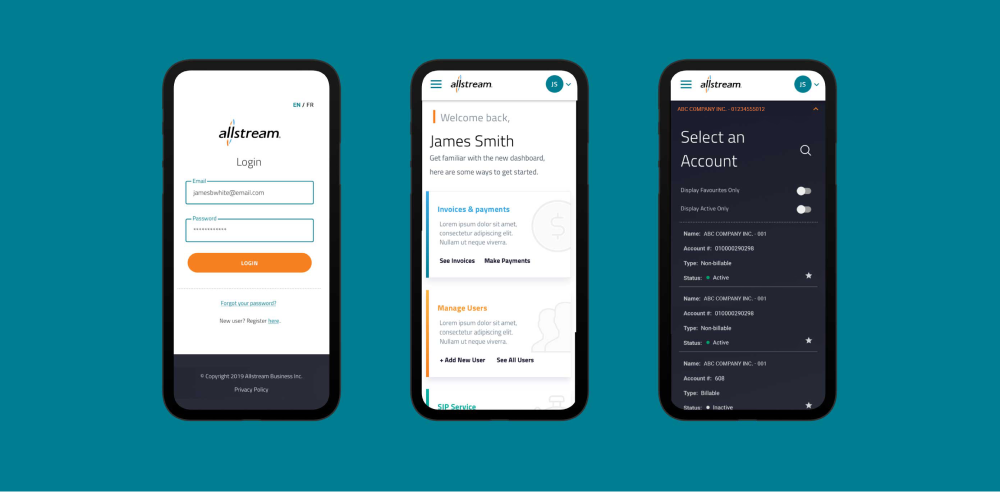 BILLING CENTRE
A dedicated section for billing provides quick access to invoices, outstanding balance and account summary. Users can manage multiple accounts and assign favourites for added convenience. Each invoice comes with a clear breakdown of charges and the ability to download.
SUPPORT CENTRE
The Support Centre lets users create tickets for help with billing or technical issues, monitor the status of their tickets and exchange comments with admin. We developed a user-friendly workflow for creating tickets to make life easier for Allstream and their customers.
USER MANAGEMENT
Another important business requirement was the ability for customers to add users without the involvement of Allstream admin. This gives customers more control over their account, so they can easily on-board new users in their company, edit user details and revoke access if needed.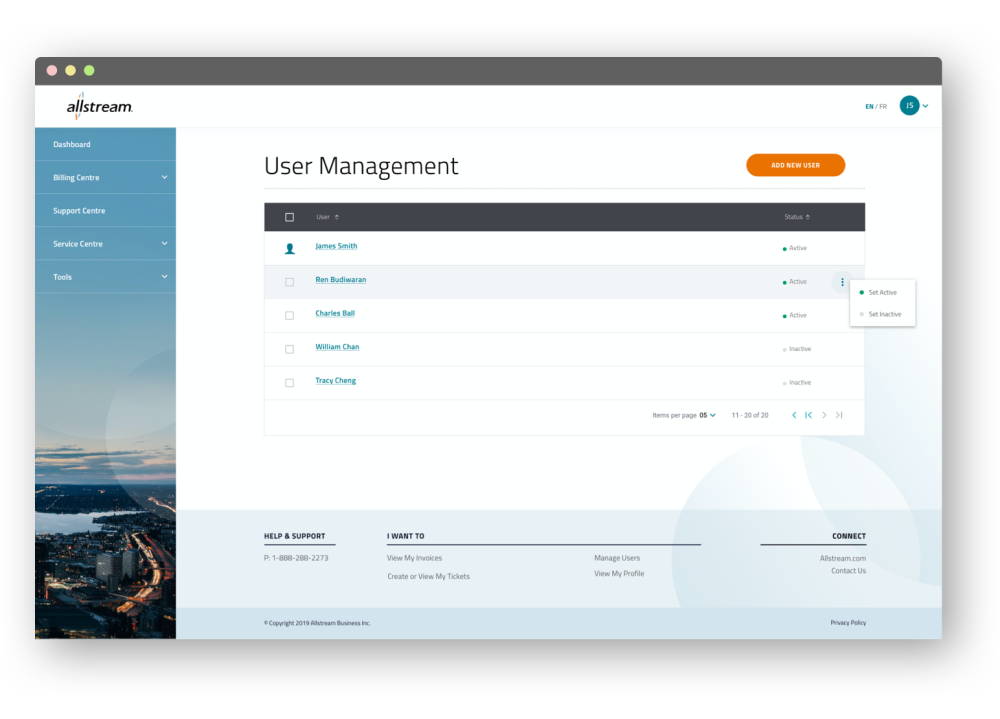 SUMMARY
As Allstream's UX and Development partner we helped plan the consolidation of both portals, bringing convenience to customers and lower maintenance costs for admin. This included documenting business requirements and technical specs, and building a delivery plan for the entire project. We also handled UX and UI design to produce a more streamlined and pleasant experience for customers.
Optimized performance during front-end development to keep up with high volume of data
Multiple integration points to connect front-end with back-end and Allstream's ticketing system
Re-designed UI for easier navigation between services
Bilingual interface for localized experiences
Responsive UI supporting all resolutions from smartphone to desktop