Services
Strategy & Planning
Technical Design
Infrastructure Setup
UX & UI Design
Development
Technology
HTML5, CSS3
WordPress
Mobi2Go
Project Features
Online ordering system
Menus & promos
Location finder
Franchising & Career sections
Supported revenue growth with seamless integration of online ordering
Enhanced the food and drink menu presentation with fresh design and UX
Saved time and reduced errors by funneling franchising leads to CRM
Supported HR and Franchising with dedicated sections and functionality
FOOD AND DRINK MENUS
We knew from analytics just how important the menu is. Our design lays out lots of content without feeling busy, and lets visitors navigate seamlessly between categories while glimpsing pics of featured items. For added flexibility, admin can create multiple versions of each menu and tie it to a specific location.
LOCATION FINDER
Along with many subtle UX and UI design touches, we integrated multiple Google APIs to make the process of finding a location as simple as possible. Each of the nearly 30 restaurants has its own page complete with hours, address, contact info and unique links to Uber Eats and other delivery services.
FRANCHISING
Buying a restaurant is no small decision, so we gave the franchising page the respect it deserves with an engaging, content-rich presentation. From a map of opportunities and testimonials, to floor plans and a custom video shot on location, the page makes a compelling case to prospective franchisees.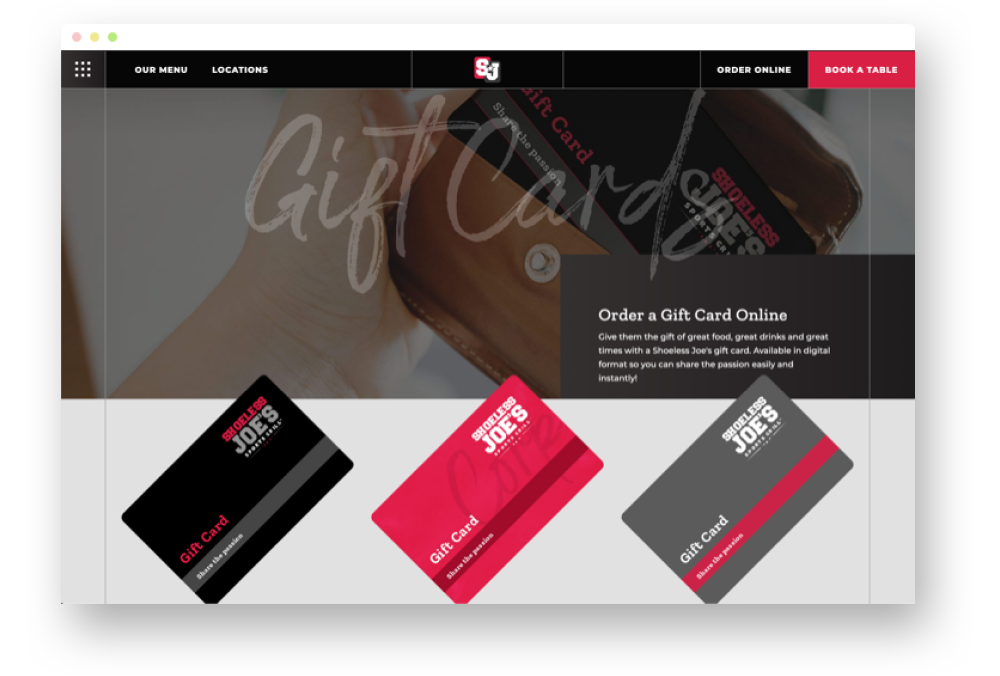 INTEGRATIONS
In addition to Google APIs for better customer experiences, we integrated multiple tools to support the corporate team's business goals. These include Salesforce web-to-lead forms for franchising, a gift card program with Moneris and a newsletter subscription platform for marketing.
SUMMARY
Shoeless Joe's has always been about delivering great experiences. We channeled that approach with their new website. Every decision was carefully thought out for a user-friendly experience on desktop and mobile devices. On the other side of the table, Shoeless Joe's now has a website that works for them.
Gift card purchasing through Moneris integration
Custom front-end with CMS to manage promos and more
Salesforce web-to-lead integration
Dedicated Careers page
Reservation system including OpenTable integration
Flexible management of food and drink menus