Services
Strategy & Planning
Technical Design
Infrastructure Setup
UX & UI Design
Development
Technology
HTML5, CSS3
WordPress
Marketo
Leadpages
Project Features
Multisite implementation
Products & services
Case studies & testimonials
Custom WordPress CMS
Enabled the client to manage content through a flexible & user-friendly CMS
Equipped customers with a library of multimedia resources organized by product
Supported lead-gen efforts at multiple touchpoints with inquiry forms
Reduced admin workload by automating flow of data between website & CRM
BOLD REDESIGN
While the previous Enghouse Interactive site struck a monotone look, we took it in a colourful new direction that is inviting and playful but still professional. The expanded palette also complements the creative use of photography and shapes, with a highly custom and modern feel.
FLEXIBLE CMS
For such a content-rich site, it was important to build a content management system that could keep up. Enghouse admin can use a wide variety of content elements to build products and solutions as they see fit, while connecting ebooks, blog posts, testimonials and more to keep visitors engaged.
PRODUCTS
Product pages were a major focus of the redesign, especially as the old site presented this information without a clear plan. We worked closely with the Enghouse team to design and build for a number of scenarios, so each product could tell its own story instead of being boxed into a single template.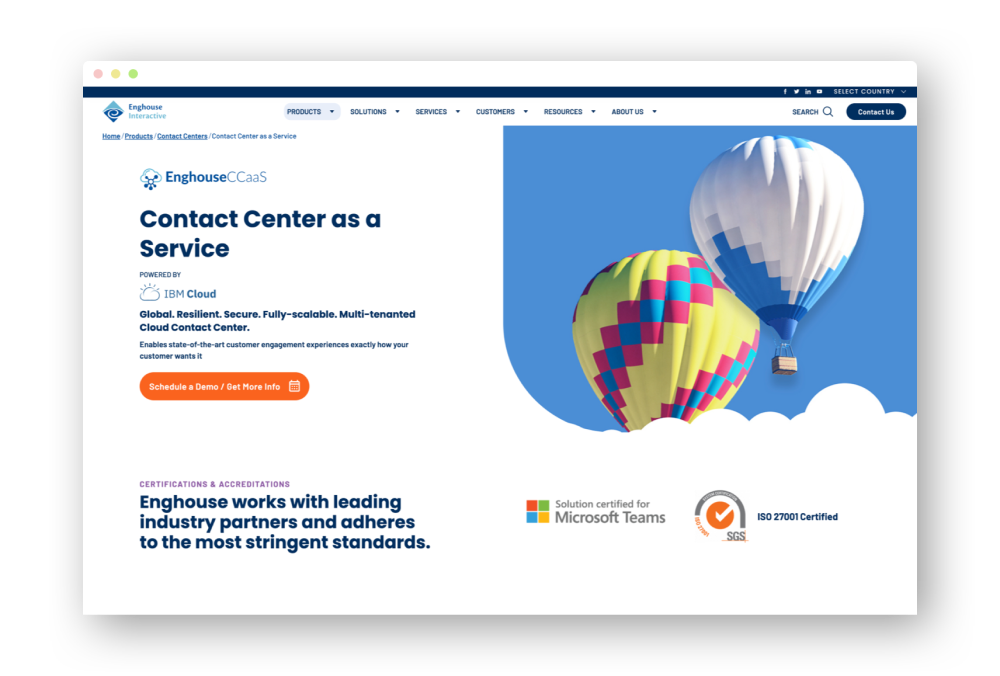 CRM INTEGRATION
Integration with Marketo and Leadpages gives the site added tools to support Enghouse's marketing and lead-generation efforts, while providing a more seamless experience for visitors. The site also includes an embedded Twitter feed for social engagement and fresh content.
SUMMARY
With the launch of its new website, Enghouse Interactive can connect with customers in a new way. But the site didn't just get a facelift; it's been redesigned and rebuilt from the ground up with attention to lead generation, accessibility, SEO, mobile responsiveness and more.
The North American version of the site is just stage one of Enghouse Interactive's digital revamp, which is scheduled to continue with new sites for other regions worldwide.
Integration with Marketo (web-to-lead) and Leadpages (landing pages)
Multisite implementation to support expansion across other regions
Robust content management capabilities built custom for Enghouse
Regionalization through geo-routing and content tagging
Gated content to support lead generation
WCAG accessibility
Extensive resource library including ebooks, whitepapers and videos