The Call to Action in Web Design: How to Get People to Push Your Buttons
BY ITW Consulting
ITW Consulting Corp
As if drawing visitors to your website wasn't difficult enough, you also have to spur them into action, to encourage them to go beyond a passive experience. The evolution from uninitiated to full convert rarely happens without a gentle (or not-so-gentle) push in the right direction. That's where an exacting approach to website design, one featuring a happy marriage between graphic design, user friendliness and copywriting, can pay off in spades.
Laws against polygamy notwithstanding, a web design and development team needs to consider all three factors if they hope to create a conversion-friendly environment for their client. For the user, a call to action is what takes browsing a site from a passive to an active experience.
So what entices one visitor to invest in your product or service and another to search for the nearest exit? Web design, like film or music, will naturally appeal to some and alienate others. But you can increase your chances of success on a wider scale by incorporating a clear, concise and attractive call to action.
A fine line between optimal and obnoxious
Bigger is typically better when it comes to buttons, up to a point. In website design every element on the page – and indeed within the site as a whole – is interrelated, and so should be treated as such. That means if your call to action stands a chance at drawing eyes and clicks it can't be overpowered by other elements. However, size demands greater planning than first thought might suggest. A button or textual call to action that is too big not only compromises artistic integrity, it will also alienate visitors, who resent blatant marketing ploys.
A conversation on calls to action wouldn't be complete without touching on colour and placement, two mainstays of web design. It doesn't take a web guru to conclude that a boldly coloured call to action will be more effective than something that blends into the background. In fact, decisions on button colour are usually made in consideration of the colours surrounding that button, since you're trying to set up a sharp contrast. Bold doesn't have to mean fluorescent green or hot pink, just bold relative to the rest of the scene. The reader's eyes might gloss over larger sections of text or sidebar elements, but a button that leaps off the page naturally commands greater attention.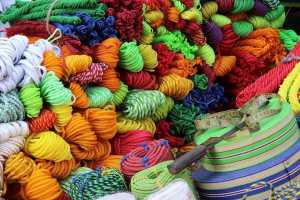 Of course, here too it's important that your web design team works with an appropriate colour palette and doesn't lose sight of basic aesthetic principles. Making a statement is important, but not at the expense of good taste. Remember that entire books have been written on colour theory, so don't underestimate the complex rules that govern the interplay of colours and hues.
Likewise, proper placement helps stress the importance of a certain message or visual cue. In designing a website, many of the same rules followed in print publications also apply here. By leaving enough white space – or whatever colour the background happens to be – around the call to action, it naturally heightens awareness of that element. Clutter is never good practice in web design, but especially so when it comes to a call to action.
At the same time, height should factor into the discussion for your web design team, since a call to action placed higher on the page stands a better chance of being seen and remembered. Users will see the button or message instantly after the page loads, whereas these elements can get lost in the shuffle of content farther down the page.
And as with many components in website design, best practices gradually emerge to maximize user-friendliness – going against user expectations, whether they are conscious or not, can work against you.
Don't expect a poor choice of words to make you any richer
Not to be overlooked is the message itself, the words that ultimately convince a person to follow through with an action. Although it might seem like a trivial matter – after all, we're being called to act so often in a given day that the messages start to jumble together – word choice should not be taken lightly.
Fortunately, with the array of statistics available you and your web design team can determine which phrasing entices the most clicks. After a little adjusting – made easier through techniques like a/b testing, which compares different scenarios in a tightly controlled environment – you can settle on the most promising option for your website and your goals.
But certain guidelines have come to the fore after many years and many in-depth case studies. Some characteristics are common to all effective calls to action, including brevity and clarity. Creativity is of course important in web design, but most sites are commissioned with the goal of appealing to a wide audience and generating a significant return on investment. Explore phrasings beyond the standard "Buy Now" or "Apply Today," but keep in mind that your message must be instantly clear to the user. In other words, don't get cute with wording if it will just confuse.
Ensure that your call to action is concise (in many cases it will have to fit the confines of a button, leaving little room for exposition) and clear about what the person can expect by clicking on it. If the user has any doubt as to what they'll encounter on the other side or where they'll end up, it's providing an unnecessary obstacle to a conversion.
To sum up, here are some of the best strategies for creating a call to action:
The button or message should be large enough relative to surrounding elements that it will stand out, without reaching the point when it becomes obnoxious or downright ugly
The colour should help differentiate your call to action from the rest of the page – contrast, not clash, being the operative word here
When located higher on the page and close to the centre, the call to action will be seen immediately and likely for longer
Wording that is short, sweet and has at least a little personality will resonate most with users
Effective placement means avoiding clutter or noise in the surrounding area
With an acute understanding of what goes into making effective calls to action, ITW Consulting helps clients maximize clicks and conversion rates. ITW's professional Toronto website design services generate sites that satisfy the interests of both clients and their users, carefully balancing elements like graphic design, functionality and message.
The Continuing Reign of Content in Website Design
Expert Website Design and Development Breaks Down Barriers to Business