Services
Strategy & Planning
Technical Design
Infrastructure Setup
UX & UI Design
Development
Technology
HTML 5, CSS3
WordPress
Google Translate
Project Features
Products section
Blog
Live chat
Custom CMS
Supported customer enrollment with portal registration & login flow
Equipped the client with tools to enhance website SEO & marketability
Enabled localized experiences with Google Translate integration
Helped introduce a new product suite with a colourful & engaging design
PRODUCTS THAT POP
Rather than take a safe or expected approach to payment solutions, we presented products in a creative way that makes bold use of 3D illustrations, collage and colour. The goal was to put a friendly face on traditionally dull products like payment terminals, which are seen as more of a necessity. We also wanted to help SoftTech stand out in a busy marketplace, especially as a new business trying to win customers.
A clear pricing table and breakdown of product specs give business owners access to all the info they need to make an informed decision. To take the next step, they can connect with SoftTech through the form or live chat.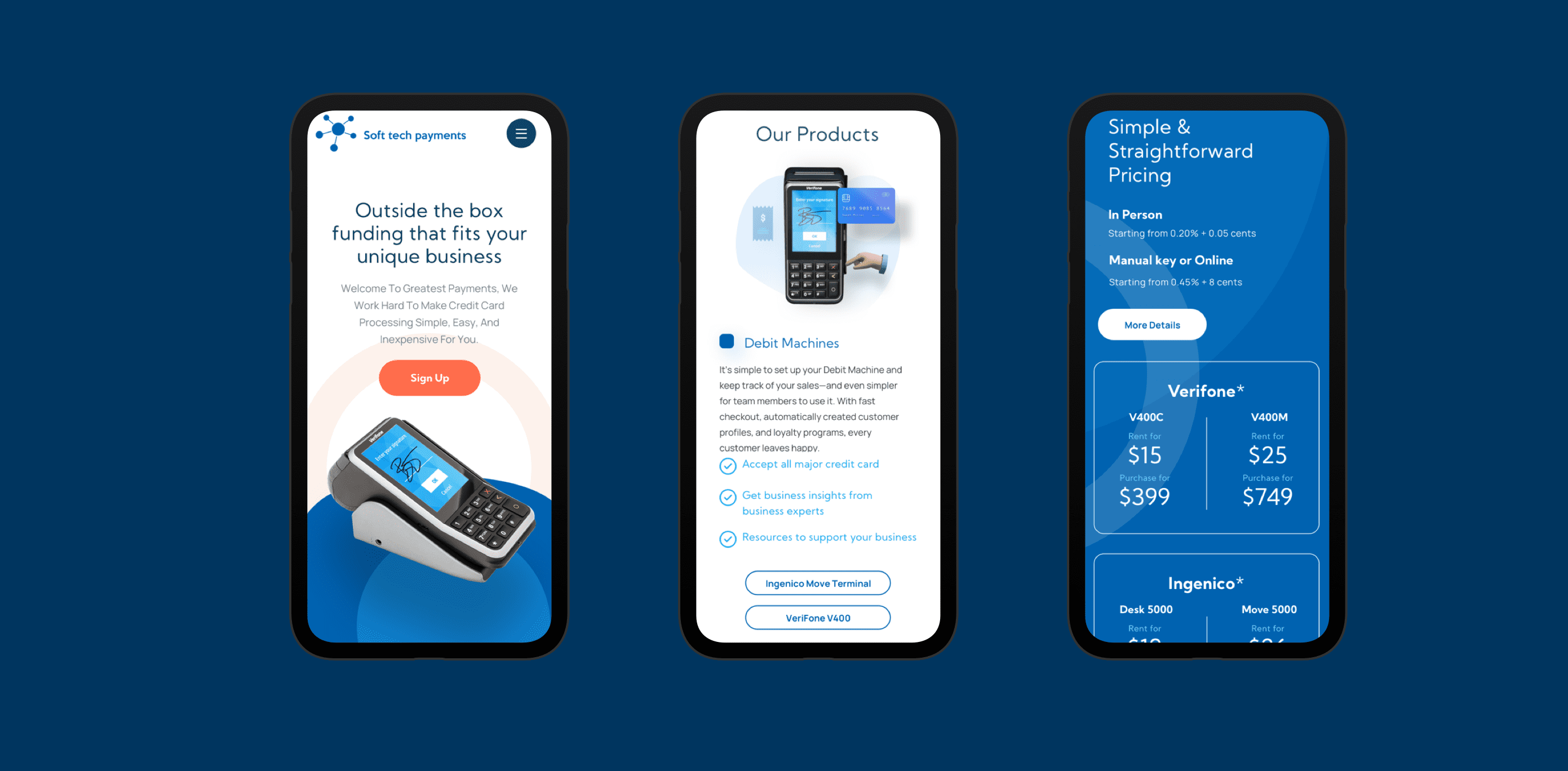 SOLUTIONS FOR DIFFERENT BUSINESS NEEDS
As with products, solutions get a colourful treatment that showcases all of the most important info in a more memorable way. From gift cards and customer loyalty programs, to virtual terminals and pre-paid credit cards, SoftTech's solutions each get a dedicated page with content and design geared to address the pain points of today's business owners.
MARKETING TOOLS
To help the site reach more people, we integrated a newsletter marketing platform and custom blog. The blog, as with the entire site, is manageable in the user-friendly content management system (CMS) that we built for SoftTech.
COMPANION CUSTOMER PORTAL
We also designed and developed a customer portal with a virtual terminal, which allows business owners to accept payments directly from a browser. Customers can also open helpdesk tickets, manage invoices and view statements. On the admin side, SoftTech can manage tickets, authorize new customers and more.
The customer portal login and registration forms are linked directly from the website for easy access.
SUMMARY
The SoftTech Payment website has given the new company a strong foundation from which to grow its business. A creative look and feel to the site helps demystify payment solutions for prospective customers, while a series supporting tools and integrations provides support to a business with big ambitions.
Dedicated pages for products and payment solutions
Companion customer and admin portals
Integration with live chat and Google Translate
Custom CMS to support SEO and content marketing initiatives