Services
Strategy & Planning
Technical Design
UX & UI Design
Development
Web Integrations
Technology
HTML 5, CSS3
WordPress
Google Calendar
Project Features
Licensing forms
Leadership profiles
Awards database
News & press releases
Helped the client deliver a clearer mission statement & value proposition
Migrated an extensive awards database to save time for the client
Integrated an external blog to increase content visibility
Built a bilingual framework to connect with users in both official languages
MUSIC CREATORS
For SOCAN's membership—a diverse group of music creators and publishers—the new website provides many valuable resources. These include signup forms, access to exclusive benefits, educational resources and opportunities to participate in song camps and stay at one of SOCAN's international properties. Most importantly, the site makes it clear what SOCAN does for them and why it matters.
MUSIC USERS
SOCAN provides an easy way for businesses to use music ethically, and collects royalties based on that usage. To get businesses onboard, the website needed to present a professional and trustworthy image, which we tackled through design. On the functionality side, we implemented a searchable repertoire of musical works, licensing forms based on business type and more.
SOCAN Houses
As one of its services to members, SOCAN maintains and coordinates stays in houses across the world, including Paris and LA. We created a showcase of each property that provides a much simpler user experience than the current site. Members can also easily access application forms, check availability and view amenities. On the admin side, availability is managed through an integrated Google Calendar API.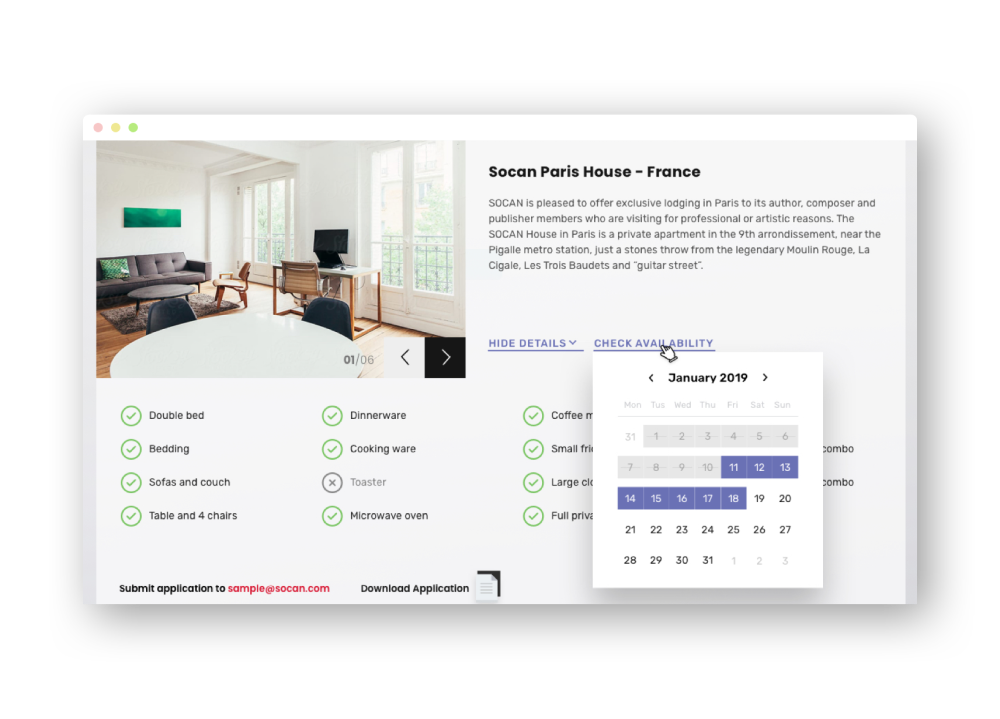 ABOUT SOCAN
It would be easy for an organization with as many departments and responsibilities as SOCAN to come across as cold or impersonal. But with the new site, we wanted to present an engaging and human narrative through the strategic use of photography, information architecture and a welcoming design. It was also important to provide a number of convenient touchpoints for visitors.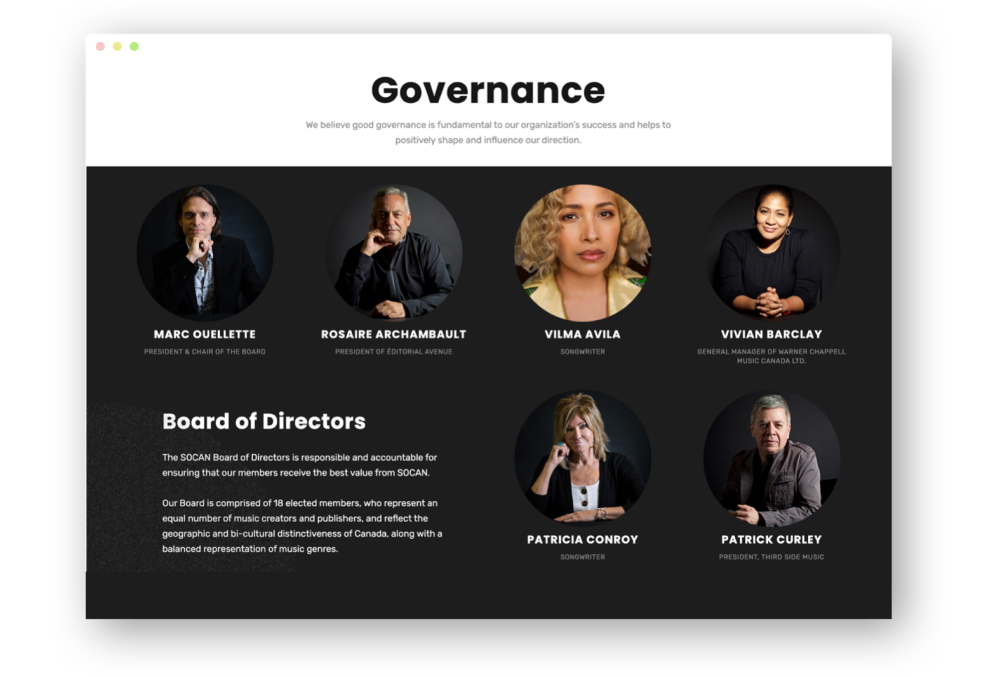 SUMMARY
Technology is a driving force behind SOCAN's success, and with the launch of its new website we helped build on that image. Not only does it integrate several important business functions, it provides a modern online experience that caters to the needs of music creators and businesses that use music.
Fully bilingual content
Leadership profiles
Searchable database of annual awards
Blog integration and newsletter subscription
Licensing forms for businesses