Services
Strategy & Planning
Technical Design
Infrastructure Setup
UX & UI Design
Development
Technology
HTML5, CSS3
WordPress
WooCommerce
Stripe
Mailchimp
Project Features
Ecommerce
Social login for customers
Partnership inquiry form
Newsletter signup
Supported marketing and outreach initiatives following a re-brand
Enabled the client to sell online and manage product data with ease
Helped engage with and educate visitors about neck-related injuries in sports
Simplified the process of finding and purchasing the right product based on activity
A PRODUCT FOR EVERY ACTIVITY
Kapsul's core product, a collar that stabilizes the neck to reduce the chance of injury, is available in different configurations to suit a wide range of activities—from contact sports like football and hockey, to equestrian and even military applications.
For the best protection against neck injury, customers are encouraged to pick a product designed specifically for their needs. We designed a simple but engaging take on the product filtration experience, taking the guesswork (but not the style) out of the process.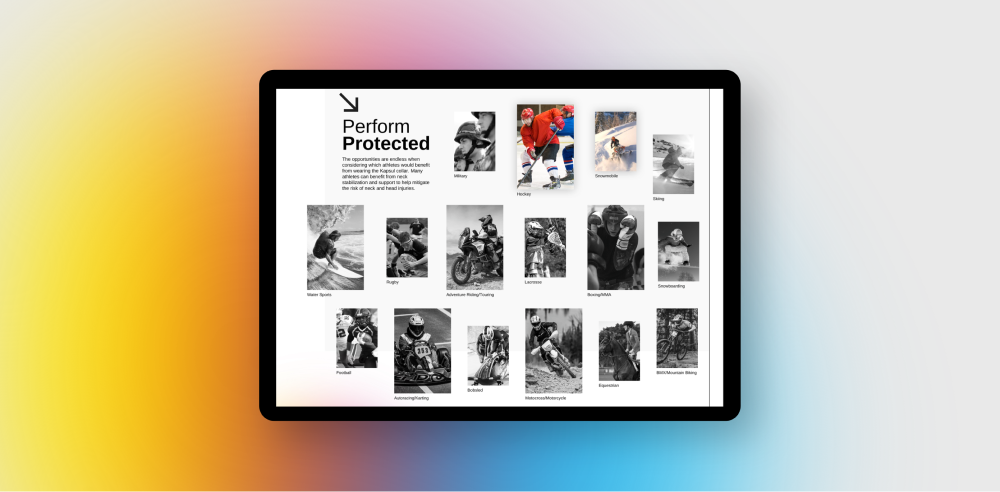 A SEAMLESS SHOPPING EXPERIENCE
Ecommerce was implemented after launch, so we had to think about how to incorporate such a significant functionality without disrupting what was already there.
As part of that upgrade, we integrated social login for convenience, configured multiple payment options through Stripe and included nice-to-have features such as order tracking and order history for customers. On the back-end, admin can easily process orders, edit product details, generate promo codes and much more.
BACKING IT UP WITH SCIENCE
As a relatively new product in an untapped market, Kapsul needed to prove itself in the eyes of customers and potential brand partners. We wanted to educate visitors about the research and innovation that went into Kapsul's creation, without the site starting to feel like a science journal. Our approach aims for a balance of information and emotion—so visitors can have confidence in the product and get excited about buying it.
BUILDING BRAND PARTNERSHIPS
In addition to selling direct to consumers, the team behind Kapsul wanted to build relationships with likeminded brands in the same space. To help with that, we established a dedicated page and funnel for partnership leads. Videos, testimonials, data and other details combine to make a compelling case for Kapsul as a brand worth partnering with.
SUMMARY
Now complete with a full ecommerce experience, the Kapsul site is well balanced to serve several business goals—from revenue growth and lead generation, to education and brand recognition. Creatively, it captures the inviting and inspirational spirit of Kapsul, and helps establish the brand's unique value proposition in an underserved space.
Ecommerce with Stripe integration for payments
Social account login
Customer account management with order tracking and history
Blog and whitepaper download
Newsletter system integration