Services
Strategy & Planning
Technical Design
Infrastructure Setup
UX & UI Design
Development
Technology
HTML 5, CSS3
WordPress
WooCommerce
PayPal
Shopventory
Project Features
Programs & classes
Shop for students & alumni
Student portal
License renewal exams
Saved time for admin by integrating an external inventory management system
Streamlined the student experience by merging the CEU & core websites into one
Expanded admin capabilities to help manage the shop, enrollments & more
Helped the client present a more modern, engaging course presentation
PROGRAMS & COURSES
To help connect with prospective students, we modernized the pages for programs and continuing education courses with a cleaner and more compelling presentation. Even with lots of content, the pages display all the most important visuals and details in a way that is easy to process, including on mobile.
Students can see the upcoming schedule, program outline, registration dates, financing info and testimonials, and connect with BHI to ask questions. Current students and alumni can also view and register for continuing education courses to help advance their career.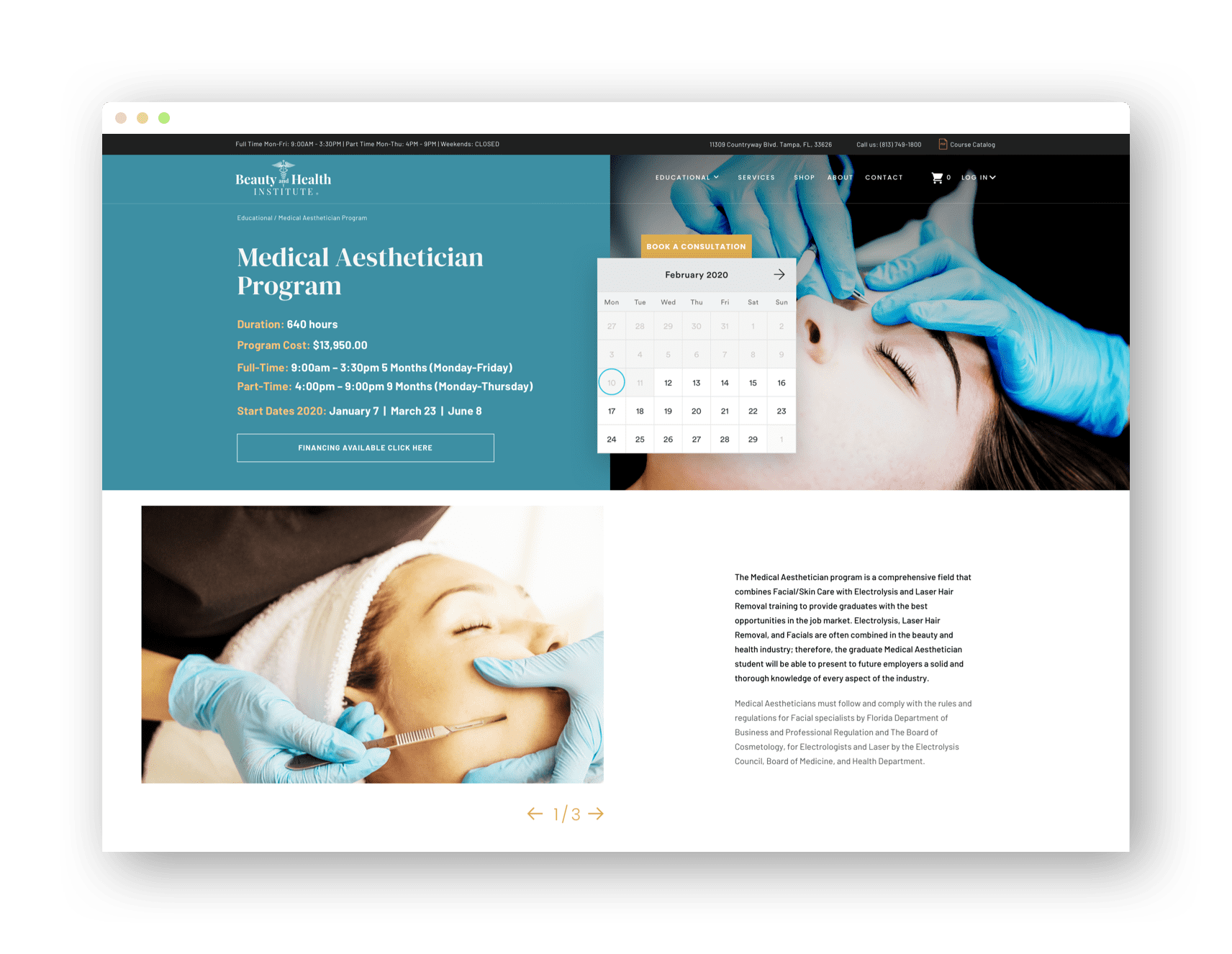 SHOP
Powered by WooCommerce, the shop contains a variety of beauty products for sale to current students and alumni. We set up a number of custom conditions in the shop, including the ability to control pricing and the products that appear based on user type.
Since BHI was already managing product inventory in Shopventory, we integrated it with WooCommerce to automatically synchronize data. That means they only have to manage product info in one place, to save time and reduce the chance of errors.
STUDENT PORTAL
The password-protected section for current and former students provides access to various forms, course info and other valuable resources. For example, students can notify admin about a leave of absence and request make-up hours to catch up with their program. They can also access and register for continuing education courses, and view jobs posted by employers who partner with BHI.
EXAMS & LICENSE RENEWALS
To help BHI graduates maintain their professional accreditation, we developed a series of exams for various disciplines. Upon successful completion of an exam, the user can access and pay for an auto-generated certificate in their website account.
SUMMARY
The new BHI site resolves a number of pain points for students and staff. Through various integrations and a more streamlined experience on the front-end and back-end, we delivered a modern website that caters to the needs of today's users.
E-commerce with custom logic and rules based on user type
WooCommerce integration with Shopventory
Student portal with access to resources, job postings and more
Content-rich pages for programs and continuing education courses
Extensive content management capabilities for admin