Boston Pizza Franchising Website Goes Live!
BY ITW Consulting
Web Design and Development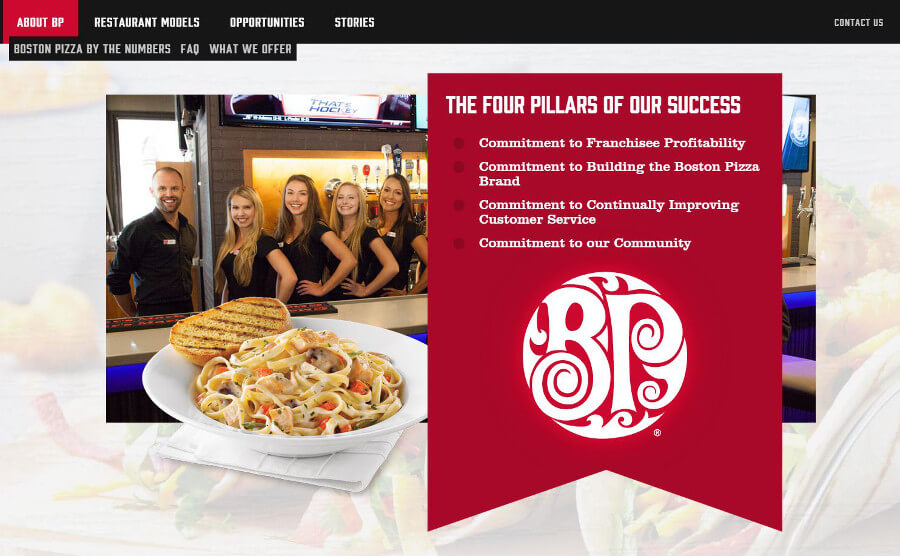 This project is the first (but not the last) collaboration between ITW and Boston Pizza—Canada's top casual-dining brand, with more than 370 restaurants from coast-to-coast. After months of planning, hard work and refining, we're proud to be able to add this website to our portfolio. More importantly, the client is happy with the results, and early traffic statistics are promising.
How it all started
Before this project, franchising occupied a small, out-of-the-way spot on Boston Pizza's main site. The footer, to be exact. The idea behind giving franchising its own website was to reach out directly to prospective franchisees and help fuel Boston Pizza's ambitious growth plans.
Project highlights include:
Testimonial videos with real franchisees shot on location in Ontario and Quebec
An interactive "Opportunities" map showcasing the latest chances to own a piece of Boston Pizza
Responsive, mobile-friendly front-end
Multi-lingual content (with management abilities in a custom CMS)
Franchisee application
Bold, full-screen design featuring a number of unique graphical elements
Boston Pizza is a fun-loving brand, and we think that shows in the look and feel of the entire website. You can visit the site and decide for yourself, or check out more projects in our portfolio.
Five Must-Haves for Successful B2B Website Design
Re-evaluating Your Website Needs in the COVID Era